03/30/2021
Posted by:

Winter Green-Ike

Category:

Employment Law, Risk & Compliance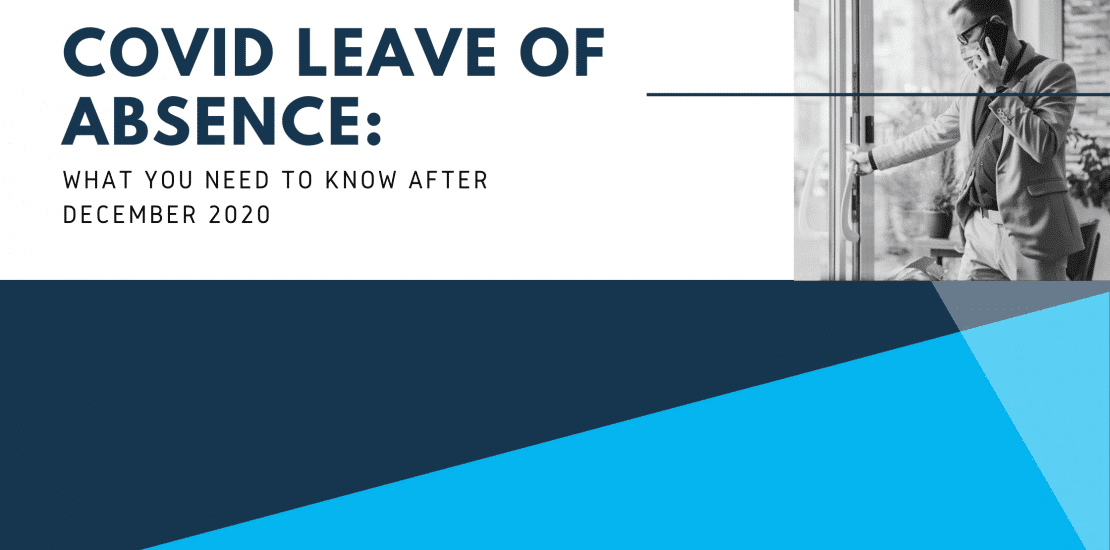 The pandemic has brought all kinds of changes to our work lives. Social distancing standards, PPL loans, and work from home are just some of the changes we've had to adapt to during the pandemic, but even a year later there are still a few things that we're having trouble understanding about the legislation that has come out in response to COVID-19. 
Most notably some of the provisions of the Families First Coronavirus Response Act (FFCRA) has given our clients headaches over the last couple of months, so we decided to discuss a section that we get the most questions about—Employee Covid Paid Sick Leave. 
FFCRA Paid Sick Leave Provision 
The FFCRA was passed by Congress on March 18th and signed into law by President Donald Trump later that day. The act provided funding for free coronavirus testing, 14-day paid sick leave for American workers affected by the pandemic and increased funding for food stamps.  
Generally, the Act provided that employees of covered employers are eligible for: 
Two Weeks

 (up to 80 hours) of 

paid sick leave

at the employee's regular rate of pay where the employee is unable to work because the employee is quarantined (pursuant to Federal, State, or local government order or advice of health care provider), and/or experiencing COVID-19 symptoms and seeking a medical diagnosis; or
Two Weeks

 (up to 80 hours) of 

paid sick leave

 

at two-thirds

 of

 the employee's regular rate of pay

because the employee is unable to work because of a bona fide need to care for an individual subject to quarantine (pursuant to Federal, State, or local government order or advice of a health care provider), or to care for a child (under 18 years of age) whose school or child care provider is closed or unavailable for reasons related to COVID-19, and/or the employee is experiencing a substantially similar condition as specified by the Secretary of Health and Human Services, in consultation with the Secretaries of the Treasury and Labor; and

Up to an additional 10 weeks of paid expanded family and medical leave at two-thirds

 of

 the employee's regular rate of pay 

where an employee, who has been employed for at least 30 calendar days, is unable to work due to a bona fide need for leave to care for a child whose school or 

childcare

 provider is closed or unavailable for reasons related to COVID-19.

 
The paid provisions of the FFCRA were set to last through December 31, 2020, but if an employee comes to you with Covid it still triggers the Family and Medical Leave Act of 1993 (FMLA) requirements because COVID-19 is still a serious illness. So, although you don't have to provide paid time off, you still have to provide time off while the employee recovers from the Coronavirus. 
The Future of Covid Leave of Absence 
Now, why are we discussing a bill that lapsed in December? Because the paid-sick leave provisions of the FFCRA have caused some confusion among our clients and we thought it would be best to address it in a blog post. Currently, employees are still entitled to time-off under FMLA if they are infected with the Coronavirus, but you aren't legally required to make that leave paid. However, Congress has come out and said that employers can make the leave paid voluntarily and still receive some of the tax benefits and credits. 
The Biden Administration also signaled early in their transition that they wanted to expand the paid protections under the FFCRA, but the expanded provisions were not in the recently passed American Rescue Plan Act of 2021. However, it's worth knowing the past FFCRA provisions just in case they do get expanded later on during the year, but as it stands now the paid requirements have expired.  
If you do choose to voluntarily provide paid-leave to your employees for Covid leaves of absence, then you need to ensure that you are equally applying to all of your employees. Additionally, if the employee wishes to utilize your companies own PTO leave aside from an FMLA trigger, then you also need to comply with that as well. 
You could benefit greatly from taking a moment to review your company's PTO guidelines and updating your employee handbook based on what your employees are allowed to do. Review your company's PTO guidelines and be aware of how your employees could utilize them if they wish to take time off due to Covid.  
Are you struggling with managing your human resource needs? SolveHR offers several transactional and strategic HR services to help your business. Contact us today to find the right solution for you, so you can focus on what matters—growing your business!
Subscribe to receive all our blogs
Written by: Matthew Muriel

Meet Matthew! Matthew is our content writer and has been working with us for a year. He enjoys working for SolveHR because it allows him to practice his copywriting and allows him to build experience in his fledgling career. Matthew studied at the University of Texas at San Antonio and earned his degree in English with a concentration in Professional Writing. He values learning new processes in the HR industry and then conveying those ideas to the company's clients. When he isn't working, he enjoys reading nonfiction, with his favorite book that he recently read being The Gene by Siddhartha Mukherjee. If he could go anywhere in the world he would travel across the United States and visit all of the national parks.