04/03/2019
Posted by:

Winter Green-Ike

Category:

Employment Law, Small and Mid-Sized Business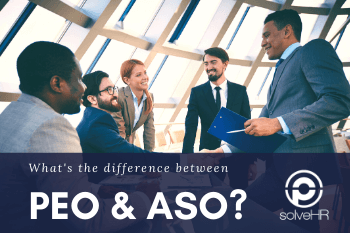 Whether you run a small, medium, or a large business, you are going to need HR services to oversee the various aspects of employment. Services like payroll, benefits, workers' compensation and other administrative functions are imperative to managing human capital but can often be expensive for smaller businesses to have in house.
Depending on your business needs you may find it beneficial to outsource some of these functions to a Professional Employment Organization (PEO) or an Administrative Service Organization (ASO). The focus of this article is to explain the difference between ASOs and PEOs and see which one is right for your business.
What is a PEO?
Professional Employer Organizations (PEO) help small to mid-sized companies handle their everyday HR needs that would be a hassle to do in house. PEOs handle services like payroll processing, employer payroll tax filling, benefits, workers' compensation, and other human resource functions that are needed to run a business
PEOs work under the co-employment model, meaning that when you partner with a PEO, the organization becomes the employer of record for your full- and part-time employees, but you retain full control over your business and employees. This allows for reduced administrative burden, mitigated risk, and allows the utilization of comprehensive compensation packages that will make employers more attractive.
One example of the benefits of a PEO is if your business experiences high turnover rates and your state unemployment tax rate (SUTA) is high. Under the co-employment model, you have the option to be under the PEO's SUTA rate which can thus lower your rate and improve your organization's SUTA over time.
What is an ASO?
An Administrative Service Organization (ASO) is similar to a PEO in that they offer HR administration, regulatory compliance, payroll support, and other HR services, but does not operate under a co-employment model. Your business would remain the employer of record and is responsible for all legal obligations.
PEO VS ASO
So, which is better for your business? Well, that depends on your needs, goals, and size of your organization. PEOs are great for small and mid-sized businesses as it frees up resources to focus on growing the business while providing benefits like discounts on benefits packages and the above-explained SUTA tax benefit. Larger companies may choose to go with an ASO as it frees up their HR teams to focus on more strategic activities like recruiting, employee engagement, and training.
Choosing which one is right for your business's needs is dependent on a multitude of factors. Both models proved administrative and regulatory protections, and as a PEO we're a bit biased in our client-engagement model, but if you are thinking about outsourcing your human resources you can always get in contact with one of our experts to provide a consultation.
Are you struggling with managing your human resource needs? SolveHR offers several transactional and strategic HR services to help your business. Contact us today to find the right solution for you, so you can focus on what matters—growing your business!