05/03/2021
Posted by:

Winter Green-Ike

Category:

Culture & Retention, Recruitment & Selection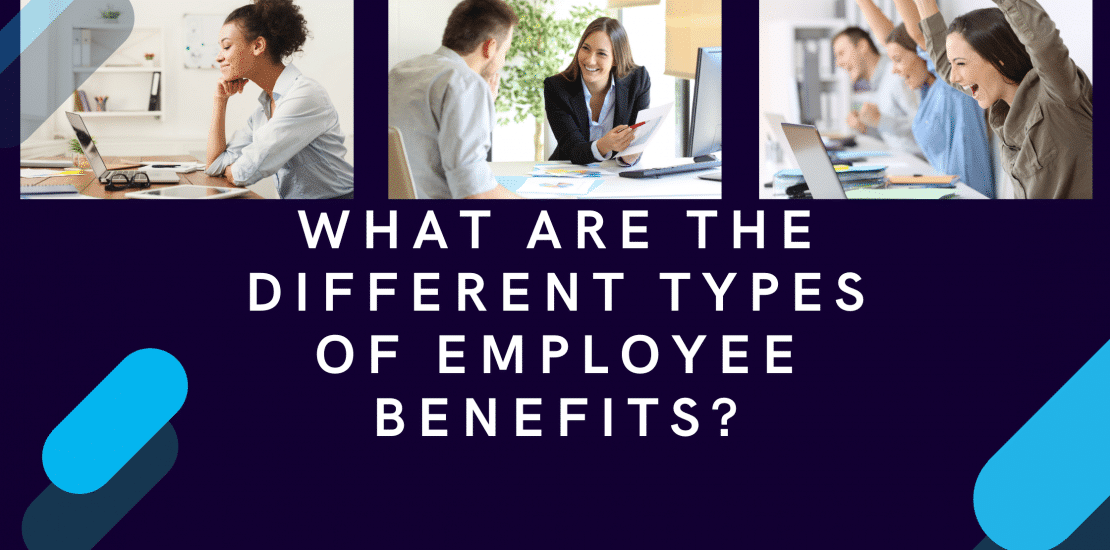 Employees are working harder and harder and expecting great benefits from their employers. These days it's not enough just to offer a large salary to an employee and expect them to be content with their work. You've got to go the extra mile and offer great benefits to meet the needs of your current and future employees.   
Often great benefits can be the key to retaining and recruiting great talent for a business, but with the growing number of benefits that employers across the country are offering their employees, it can be difficult to know what to offer your employees to stay competitive in the job market.  
Understanding the different types of benefits out there can give you some better insight into what you're bringing to the table for your current and future employees. This week we wanted to break down the different types of benefits that you can offer your employees, as learning about these offerings can give you a competitive edge over your competition.
Types of Benefits 
The term "employee benefits" can cover a multitude of things, but for the sake of this article, we're going to break up benefits into two categories—Traditional and Non-Traditional Benefits. 
Traditional Benefits 
There are four major types of traditional benefits that you can offer your employees. Think of these benefits as the bread and butter of your benefits package and should be a strong part of your benefits offering for your employees. The four types of traditional benefits are as follows:
Medical– This is the most common type of benefit that employers can offer. The rising cost of health insurance, hospital visits, dental, vision care, and prescriptions are causing this to be an important benefit to offer to employees.
Life– Another common benefit that is offered is life insurance or accidental death and dismemberment (AD&D) insurance. This ensures that if an employee passes away then their funeral and ongoing living expenses will be paid out to their family. AD&D insurance provides a lump sum payment if the death or dismemberment of an employee occurs due to an accident. Both benefits provide employees with peace of mind and are a valuable tool to attract talent.
Disability– Employers can offer short-term and/or long-term disability insurance to their employees. This covers if an insured employee is injured or sick, the benefit will pay the employee for the length of time they are unable to work. If an employee is temporarily sick or unable to work, they would receive the short-term disability, and if they have a more permanent illness or injury preventing them from work, they would receive the long-term benefit. 
 Retirement– There are several retirement accounts that an employer can offer its employees, but the most common type of retirement account is the 401(k) plan. This allows employees to deduct a certain percentage of their paycheck to put towards retirement savings. Other retirement accounts that can be offered are Simple IRA, Roth 401(k), 403(b), and more. 
Non-Traditional 
The next category of benefits is known as non-traditional benefits. These benefits are any added benefits that you offer that help supplement an employee's salary. Usually, these benefits are additional work perks as opposed to insurance packages, retirement, or other necessities. 
Think of these benefits as added bonuses to your employees' existing set of traditional benefits. Some form of medical and retirement offerings are now expected these days, but offering things like unlimited vacation time and work from home options can be an enticing benefit that can attract talent to your business. There are many different types of non-traditional benefits, but a few popular ones that have popped up over the last 10 years are: 
Tuition Reimbursement

 

Work 

From

 Home Option

 

Pet Insurance

 

Catered Lunch-Ins

 

Free Snacks and Coffee

 

Gym Access

 

Financial Planning Resources

 

Company Outings

 

And more

 
The above list isn't an exhaustive list of non-traditional benefits, and as time has gone on employees expect different things from their workplace. It is up to you to understand the needs of your current and future employees to begin to understand what to offer them. 
More and more employers across the country are beginning to offer a combination of both traditional and non-traditional benefits to attract and retain employees. The future of your company lies in offering an attractive combination of both benefits to cater to your desired workforce. 
Need help deciding what benefits are best for your business? SolveHR takes the guesswork out of choosing benefits with our experts who are trained to find a solution tailored to your business's needs. Contact us to find out how our transactional HR services can simplify the administration work that goes into managing benefits so you can focus on what matters—growing your business!