04/27/2021
Posted by:

Winter Green-Ike

Category:

Culture & Retention, Small and Mid-Sized Business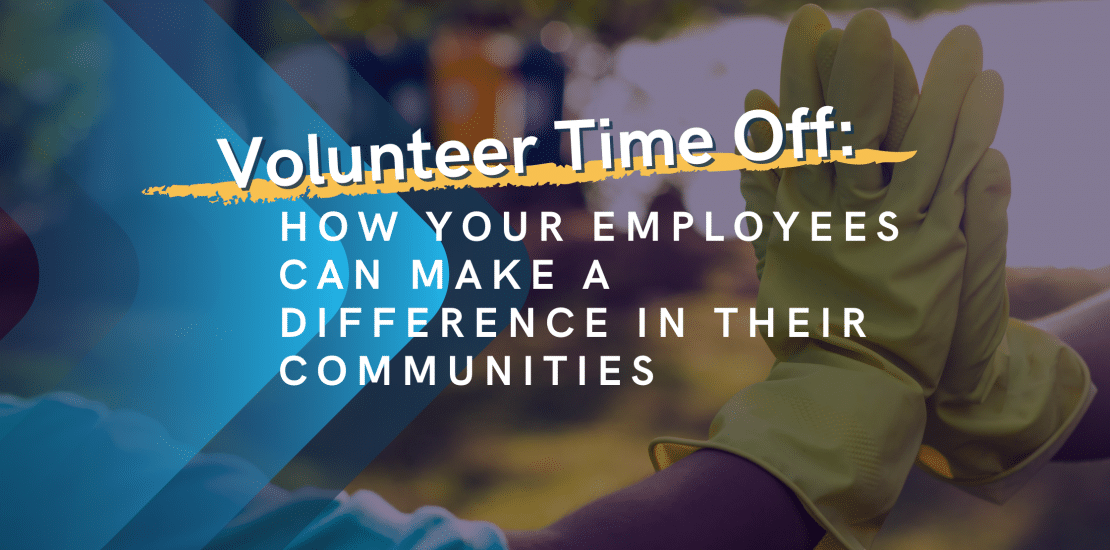 April is National Volunteer Month, with the 18th-24th always being National Volunteer Week, but just because April is almost over doesn't mean that your business can't focus on how to provide more volunteer opportunities for your employees year-round.
Providing service opportunities for your employees allows them to feel more connected to your business and their community. This week we wanted to discuss different ways that you can offer opportunities for your employees to volunteer through volunteering ideas and the concept of volunteer time off.
What is Volunteer Time Off?
Volunteer time off (VTO) is a new employee perk that is catching on with businesses across the country. VTO is employer-sponsored paid time off to do volunteer work in your community. Employers that offer VTO usually grant between 8 to 40 hours of VTO a year to their employees to do volunteer work.
A successful VTO policy should include the amount of time employees may take off for volunteer work, what requirements there are for volunteering activities, and how the employee can get their request approved. VTO policies are an easy way to get your employees engaged with their community and can be easily integrated into your existing paid time off plan making it just as easy to track as vacation, sick, or bereavement days.
Just a decade ago, VTO was rare, with only 15% of employers offering it in 2009 and only 1% planning to offer it, yet over the last decade, companies have taken social responsibility more seriously and begun to offer more programs like VTO to their employees. According to a 2018 SHRM survey of employee benefits, 24% of surveyed businesses offer VTO, an almost 10% rise from 2009 indicates that companies are starting to take VTO more seriously as an employee benefit.
Benefits of Offering VTO to your Employees
There are some big benefits that your business can reap from offering your employees VTO and linking them to service opportunities in their community such as:
Employee Retention– VTO is a great way to increase employee engagement in your company, thus increasing your employee retention rate among your employees. Creating a workplace that values community engagement allows your employees to take pride in their work and establish loyalty with your company.
Employee Recruitment– offering great benefits is a best practice to increase employee recruitment, and VTO is an attractive benefit for potential employees who value engaging with their community.
Increased Employee Purpose– Getting employees involved in their community can help increase their sense of purpose they feel towards their job. By offering VTO you can make your employee feel that they are not only contributing to the success of the company but that they are also helping a charitable cause that is important to them. This can lead to increased productivity and workplace morale among your employees.
Skill Development– Implementing a VTO program can be an effective way to increase the skills of your employees. It's been found that volunteering is beneficial to developing employee's leadership skills through the work they do. Additionally, employees can learn to communicate more effectively and learn how to participate in a team better, making them ready to take what they learned volunteering and apply it to their work.
Service Opportunities
After you've implemented your VTO program, your employees may need some help looking for volunteer work in their area. Below we've outlined different ways that your employees can do their part in helping their community and spend some VTO.
Feeding America– Food banks across the country always need volunteers to help their efforts and keep their community's fed. Feeding America is the nation's largest domestic hunger-relief organization and is a great resource for your employees to find a local food bank to volunteer at.
Blood Drives– The Red Cross helps provide about 40% of the nation's blood supply from generous donors. If your employees are looking to volunteer somewhere then a Red Cross blood drive is an excellent opportunity for them to spend VTO and help save lives.
Volunteer Match– is an excellent website that is like the Indeed or LinkedIn of volunteer work. They have multiple listings of volunteer work that is in person or remotely from different communities across the country and is an excellent way to know what's going on in your area.
United Way– is another resource that can link your employees to service opportunities in their area. On their website you can find information about different volunteer work, giving opportunities, or disaster relief that is going on.
The above only represents a small number of ways that your employees can get involved and use their VTO, but ultimately the volunteer opportunities available to your employees are based on the needs of your community. Encourage your employees to get in touch with a neighbor or a friend through an email or online chat and see what needs to be done in their area. Making a difference just takes a bit of effort, but once they get started it's easy work that makes a huge impact.
Are you struggling with managing your human resource needs? SolveHR offers several transactional and strategic HR services to help your business. Contact us today to find the right solution for you, so you can focus on what matters—growing your business!
Subscribe to receive all our blogs
Written by: Matthew Muriel

Meet Matthew! Matthew is our content writer and has been working with us for a year. He enjoys working for SolveHR because it allows him to practice his copywriting and allows him to build experience in his fledgling career. Matthew studied at the University of Texas at San Antonio and earned his degree in English with a concentration in Professional Writing. He values learning new processes in the HR industry and then conveying those ideas to the company's clients. When he isn't working, he enjoys reading nonfiction, with his favorite book that he recently read being The Gene by Siddhartha Mukherjee. If he could go anywhere in the world he would travel across the United States and visit all of the national parks.