10/01/2020
Posted by:

Winter Green-Ike

Category:

Risk & Compliance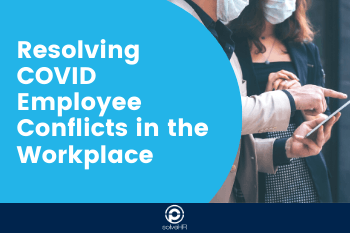 In normal times managing workplace conflict can be an issue in itself to solve, but compound this issue with a pandemic and you have a powder keg waiting to go off in the office. So what's an employer to do when keeping the peace among co-workers? 
This week we wanted to talk about how to handle co-worker conflicts in the workplace involving coping with COVID-19. We'll be examining how to implement best practices for conflict resolution, recognizing potential conflicts; updating workplace policies for the pandemic in this post.  
Recognizing Conflict in the Workplace
You most likely have employees that come to work with different views of the world, and they also may come to work with different opinions of the pandemic as well. This is where conflict can arise as HR professionals are starting to face tensions between employees due to disagreements of workplace pandemic policy.  
Recognizing where the pain points in your office are can stop the conflicts from happening in the first place. Common workplace disagreements have come from co-workers not respecting the Centers for Disease Control and Prevention's (CDC's) recommended "6-foot safety zone" in hallways, breakrooms, or elevators; employees complaining about overzealous co-workers' constantly sanitizing and spraying down areas, and employees voicing anger over others not properly wearing their face-coverings. 
Having strong COVID-19 prevention protocols in place, regular communications with employees about how they should follow those policies, consistent application of the policies, and consistent responses to employee complaints can help mitigate workplace conflict. Empathizing with your employees on their complaints is a must, but you also must be stern in enforcing the COVID protocols if violations occur.  
Being transparent about why your business is putting in place certain protocols and how they are enforced is a good way to help employees understand their obligations in the workplace. 
Pandemic Polices 
Updating your company's policies to the latest recommendations from local, state, and federal health officials keeps your employees safe and you informed about the pandemic. You should communicate with your employees that these measures are only temporary and that it's important to follow them to keep everyone safe. 
The specific policies that you put in place should be specific to your work environment. Office safety measures can be different from those taken in a manufacturing or retail space, so there is no one size fits all approach to the pandemic, but there is a wealth of advice that can be used to make an informed decision on what policies to implement. Take this CDC post on how to limit workplace violence associated with COVID-19 in customer-based businesses as an example of some of the resources out there to help build an informed pandemic policy. 
After establishing your COVID policies, you should have your employees sign an acknowledgment of policies similar to what they would sign when you update the employee handbook. This allows for obligations to be understood by your employees and legal groundwork set in case they refuse to comply with the guidelines. 
Workplace Relationships 
All of this is to establish clear boundaries between your employees. By having clear procedures on what should be done then there is less room for mistakes that could lead to your employees getting sick on the job. 
You should also establish a clear way for employees to contact someone if they have concerns about the new policies in place or if they have concerns about a co-worker who is not following procedure. 
You can further reduce workplace conflict by following a few key steps:  
Investing in PPE and supplies

– Keeping employees stocked with masks and personal supplies, such as personal hole-punchers, can reduce conflict by having employees keep to themselves
Open a dialogue

– let employees know that they are free and safe to discuss any concerns with management. Being open, empathic, and transparent is a key way to reducing workplace conflict.

Let employees know why

– Keeping employees informed on why procedures are being implemented is a great way to make sure that everyone is on the same page, thus leading to more compliance and less conflict over the rules.

Call on their sense of community

– When explaining the rules and procedures to your employees, you should try to emphasize that staying safe is a group effort. Remind them of challenges that the business has overcome by working together as a team and draw parallels to how the pandemic is just another challenge that they can overcome.

 
The pandemic is a challenge just like any other your business has faced, and the conflicts that arise from them are similar as well. Keeping the peace among your employees requires that you be empathetic yet firm with the rules that are put in place to keep everyone safe. Setting an example as a strong leader is an excellent way to ensure that everyone is on board to help end the pandemic. 
SolveHR's mission has always been to provide meaningful, yet simple HR solutions for our clients. In light of the spread of COVID-19, we will continue to make good on that mission, so you can continue to focus on your business and the communities you serve. 
Subscribe to receive all our blogs
Written by: Matthew Muriel
Meet Matthew! Matthew is our content writer and has been working with us for a year. He enjoys working for SolveHR because it allows him to practice his copywriting and allows him to build experience in his fledgling career. Matthew studied at the University of Texas at San Antonio and earned his degree in English with a concentration in Professional Writing. He values learning new processes in the HR industry and then conveying those ideas to the company's clients. When he isn't working, he enjoys reading nonfiction, with his favorite book that he recently read being The Gene by Siddhartha Mukherjee. If he could go anywhere in the world he would travel across the United States and visit all of the national parks.