04/29/2020
Posted by:

Winter Green-Ike

Category:

Culture & Retention, Training & Development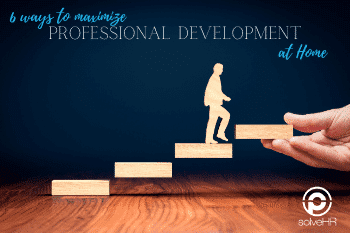 The Covid-19 pandemic has turned much of the United States' workforce into remote employees as they stay at home during the quarantine. You may find yourself in this situation, you've been at home doing your job and before you know it you've finished all your work for the week and it's barely Wednesday. Turns out that two-hour commute really was eating into your productivity and now you have the rest of the week to do something.
You could work on that unfinished garden that's been sitting in your backyard since last summer with all this extra free time, but then you get this nagging sensation that you want to do something that feels like "work." This is where professional development comes in.
This week we're going to be talking about a few different ways that you can help further your professional life during the quarantine. All of the ways that we're going to list below are things that you can do and learn at home, we figured that with the amount of time that we've been given is a perfect time to prepare yourself.
Professional Development
Before we get into our list of resources that we've put together for you, let's talk about what professional development is and how it can help you take the next step in your career. Professional development can be used in reference in a wide variety of ways, but it essentially means anything that helps contribute towards your professional growth in your career.
Professional development can be researching new job opportunities in your company, improving your existing job performance by picking up new skills or continuing your education for a higher degree. The amount of downtime that has been given to us during quarantine makes for the perfect time to try and build up the skills you need to further your career.
6 ways to maximize your professional development at home
LinkedIn Learning– is full of all sorts of courses to help develop your professional skills. If you wanted to learn a new skill like excel, brush up on your business writing, or even learn how to use zoom better there are all sorts of courses on LinkedIn to help you increase your skillset. Although LinkedIn Learning costs $30 a month, you can find over 15,000 different courses to learn from.
Research– just researching can be a little directionless if you don't know what you're looking for. Some research ideas to think about would be new practices going on in your career field or industry, new efficiency techniques that would help your workflow, or even doing research into potential clients on LinkedIn. Whatever you end up finding, think about reporting back to your team for feedback on how to use the information that you found.
Skill Based Training– Sometimes your employer will offer various trainings that will help develop your skills. These trainings can range from leadership to business writing but depend on your employer. If you aren't fortunate to have an employer who offers training, then look into some online courses that provide certificates for completing the course.
Taking on new projects– Often you may find yourself already proficient in the current tasks that you're doing for your job. This is where asking your managers if they have any new projects, long or short-term assignments can come into play in helping further your career. Not only do you get the experience from the new work under your belt, but you also get on your team's good side.
Improving existing skills– as the adage goes "practice makes perfect," and for your existing skills that is no different. Running drills for whatever you do daily can help you become more efficient in your work, whether you're a writer, coder, or manager, practicing the skills you already have is a good way to develop yourself professionally.
Continuing Your Education– With the shift to online work during the pandemic, universities across the country have moved their classes online as well. Even before this crisis, many reputable universities have online programs to earn degrees and certificates that can help give you an edge in the business world, maybe now is the time to think about getting that MBA you always wanted with some online courses.
Developing your skills takes a little effort and the payoff is great. Remember when developing goals for your professional development you want to make sure that you are challenging yourself, you have the proper support to get feedback on your growth, and you have a good anchor to measure your success. Those three components will keep you focused and ensure that your efforts are effective!
SolveHR's mission has always been to provide meaningful, yet simple HR solutions for our clients. In light of the spread of COVID-19, we will continue to make good on that mission, so you can continue to focus on your business and the communities you serve.
Subscribe to receive all our blogs
Written by: Matthew Muriel
Meet Matthew! Matthew is our content writer and has been working with us for a year. He enjoys working for SolveHR because it allows him to practice his copywriting and allows him to build experience in his fledgling career. Matthew studied at the University of Texas at San Antonio and earned his degree in English with a concentration in Professional Writing. He values learning new processes in the HR industry and then conveying those ideas to the company's clients. When he isn't working, he enjoys reading nonfiction, with his favorite book that he recently read being The Gene by Siddhartha Mukherjee. If he could go anywhere in the world he would travel across the United States and visit all of the national parks.