02/05/2021
Posted by:

Winter Green-Ike

Category:

Culture & Retention, Recruitment & Selection, Training & Development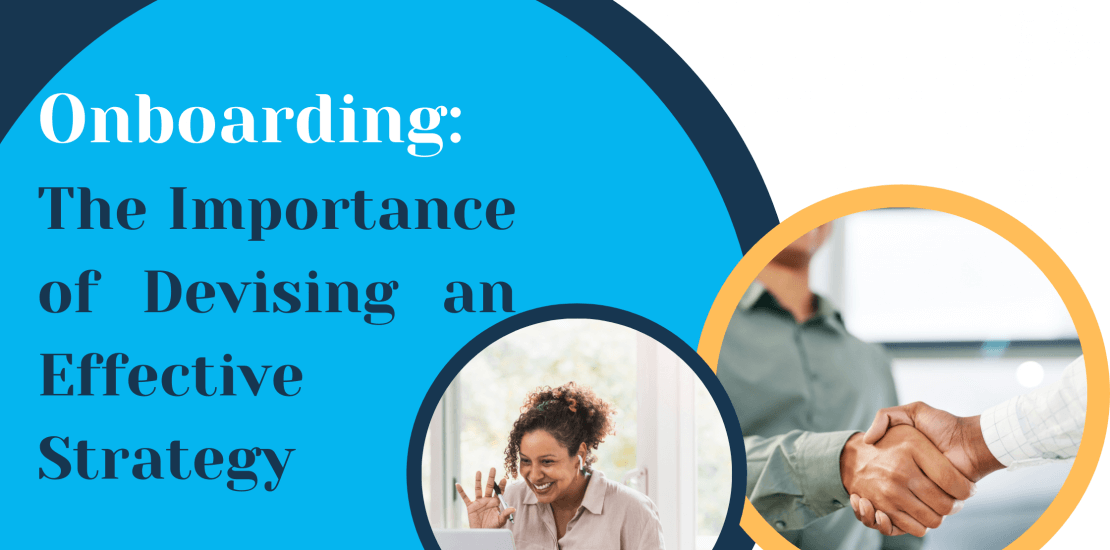 In our series on recruitment, we've talked about the importance of having a solid employee recruitment strategy to hire the best employees for your organization. We touched on how hiring employees goes beyond recruiting them to your ranks but extends past the hire date into a process called onboarding. 
Onboarding in this context is the action or process of integrating a new employee into an organization. This process is to ensure a smooth transition for the employee and increase retention and improve productivity. 
Think of it like this, if you were hired to an organization and immediately thrown to the wolves it would be a culture shock. This is what makes the process of onboarding so important. By easing an employee to an organization, you can ensure that everyone is on the same page by establishing expectations early. 
Onboarding 
When an employee gets newly hired it provides a unique opportunity for the employer to begin to build a relationship with that employee. The Society for Human Resources (SHRM) outlines the importance of this relationship with some enlightening statistics. According to SHRM, 69% of employees are more likely to stay with a company for three years if they experienced a great onboarding process. 
Additionally, Gallop has reported that we are in an era of voluntary quitting from U.S. employees. The quit rate of U.S. employees is the highest it has ever been since the government began tracking the metric in 2000. Gallop data has also shown that 67% of U.S. employees are disengaged at work, with 51% of employees saying that they're actively looking for a new job. 
When you take the SHRM and the Gallop data into account you can begin to see that something must be done to ensure that new employees are encouraged to bring their A-game to work every day. You never get a second chance to make a first impression, so it's important that as a company you establish the expectations between the employer and employee early with an effective onboarding process.
Onboarding Activities 
Onboarding can consist of multiple different activities, yet has no formal set process. Onboarding is just an umbrella term that can refer to a number of different activities that can bring an employee up to speed with your organizations, so onboarding can consist of some of the following: 
Employee handbook overview

 

Making introductions with new co-workers

 

Benefits overview

 

Facility tours

 

Create a 30, 60, and 

90-day

 plan for them

 

Job training

 
What is Onboarding like for New Hires? 
Onboarding begins the moment that the job candidate accepts the job offer from your business and ends the moment that they are fully integrated into your organization and performing as expected. While not every onboarding process that we listed above is necessary, what is necessary is making sure that all new employees are met with a thorough, efficient, and consistent onboarding process to your organization. 
We've all been new employees to a job at one point or another and it can be scary, but the best onboarding processes will always reduce this anxiety by: 
Establishing both employee and employer expectations

 

Building relationships with other employees

 

Creating a clear role for the new employee

 

Building confidence and trust in the new employee

 
How long should Onboarding take? 
Because onboarding has no set "process," the time that onboarding can take varies on the organization. We do recommend that onboarding should at least take up one business quarter to a year of the employees time with your business in our Onboarding Strategies Guide, but it really just depends on your organization's needs and position that the new employee is in. 
No matter the amount of time that you do decide to commit to your new hire, it is important that you are throughout the entire process to maximize employee engagement. Making a new employee feel welcome and prepared for their new job ensures that employee turnover remains low and new employee productivity stays high. 
Developing an onboarding strategy that works for your organization is imperative to any great business. Creating a strategy that makes all new employees aware of the tasks, culture, and workplace of their new position ensures that they'll stick around in the long run and be productive and loyal members of your team. 
Looking to increase the retention rate of your new hires? SolveHR offers world-class strategic human resource services that can help build a comprehensive onboarding process for your new hires. We ensure that your new hires are up to speed with the responsibilities of their position and they stay happy and productive from the first day to the first year of being hired. Contact us to find out how our services can help increase the retention of your new hires, so you can focus on what's important—growing your business!
Subscribe to receive all our blogs
Written by: Matthew Muriel

Meet Matthew! Matthew is our content writer and has been working with us for a year. He enjoys working for SolveHR because it allows him to practice his copywriting and allows him to build experience in his fledgling career. Matthew studied at the University of Texas at San Antonio and earned his degree in English with a concentration in Professional Writing. He values learning new processes in the HR industry and then conveying those ideas to the company's clients. When he isn't working, he enjoys reading nonfiction, with his favorite book that he recently read being The Gene by Siddhartha Mukherjee. If he could go anywhere in the world he would travel across the United States and visit all of the national parks.