02/23/2021
Posted by:

Winter Green-Ike

Category:

Culture & Retention, Training & Development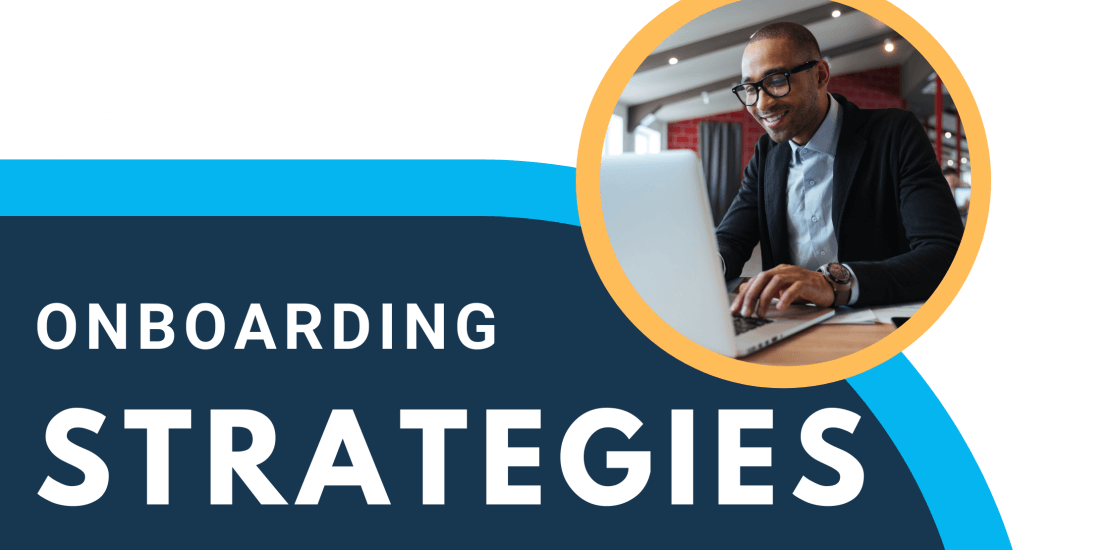 New employee onboarding is the process of introducing new employees to your company and its culture, as well as giving new hires the tools to be effective in their new positions. 
Onboarding should be utilized by your organization to ensure that all of your new hires are up to speed with the goals of the organization. We've discussed in the past the importance of onboarding and how devising an effective strategy can be planned, but we only touched on some onboarding strategies in that post. 
This week we wanted to introduce you to three different onboarding strategies that follow a new employee over a year of their employment with your company. These strategies are meant to serve as a basis for your own strategies that you choose to implement in your own business, but you are welcome to use them as–is if you would like to. 
Onboarding Strategies 
Any successful onboarding strategy begins on the first day of employment for a new hire. This is the first impression an employee has to the company culture and is often conducted through an employee orientation. Most businesses begin and end their onboarding process with just the first day introductions, but this is a common mistake as the process should last up until the first year that an employee is hired! 
We've put together three different onboarding strategies that you can use that follow the employee over their first year with the company. These approaches aim to help you bring new employees into the fold of your company and ensure that your recruitment efforts aren't in vain. 
First Day, First Month, and First Year 
A yearlong analysis of a new hire is the best approach that a business can take with onboarding new hires, as SHRM reports that it takes about 90 days for an employee to begin to prove themselves at a new job. By following an employee's development over a year, you can begin to see how they are acclimating to the work environment. The FFF strategy can be broken up into three parts: 
The First Day

– The first day should be focused on setting the expectations and

 

introducing the objectives of the organization. Employees should have a clear idea

 

about what their job duties are on day 1 of employment.

The First Month

– 

It's

 important to check in with the employee to make sure that they

 

are acclimating to the workplace well. It also allows for an opportunity to discuss

 

how the employee is performing on their duties and allows for a channel for them to

 

express any concerns they may have.

The First Year

– Reviewing an employee's performance at the end of their first year

 

will prove if 

they're

 being productive in the job. You can begin to review their

 

performance and make notes on how they can improve for the future. 
30/60/90  
While the FFF method is excellent for seeing how an employee develops in their new role over a year, perhaps not every new hire needs such scrutiny. This is where the 30/60/90 method comes in for a streamlined onboarding approach that follows a new employee over a quarter of the year that they're with the company. 
30 Days-

 

T

he first 30 days that an employee is with the company should be focused on learning as much as they can about their new position, goals, and responsibilities to prepare them. Th

ese

 first 30 days allows an employee to build a strong foundation for their position that will be expanded upon in the next 60 and 90 days of employment.

60 Days-

The next 60 days should be focused on building off of what was learned in the first 30 days. This give

s

 the new employee an opportunity to utilize what 

they've

 learned to be effective in their position. You can help them by telling them how 

they

 are currently doing in their 

role, but

 try to give them space to make their own decisions. Loses and wins are important to help build their confidence to better succeed in their position.

90 Days-

 The last 90 days have you evaluate how 

they've

 done so far in their roles. Utilize this time to reflect on how 

they've

 

succeeded

 and provide constructive

 

feedback to correct anything that they may have missed. Evaluation is always the last step in any onboarding process, as it gives your new employee a framework on what 

they're

 doing right and where they need to improve on for the future.

 
The First 6 Months  
The first 180 days that a new employee is with your company can tell you a lot about how they're going to perform in their position. This strategy takes inspiration from the first two, but isn't as short as the 30/60/90 strategy and not as long as the FFF strategy.
The first 180–day mark of a new employee's time with the company should be spent expanding the responsibilities of the new hire. Now that they're comfortable enough with their job, expanding and changing their projects is a great way to help your new employee grow.
Setting 6–month goals and reviewing their performance from the previous 6 months allows them to fully utilize everything that they've learned, fully cementing their place in your business or organization.
Goals of Onboarding 
 It is also helpful to begin to think about what exactly you want your new hires to know about your organization. This is where the process extends into a discussion with your current employees. When fine-tuning your onboarding strategy, it is helpful to gain this insight from veteran employees as it turns the process into a community effort. Some helpful points to think about when designing a strategy are: 
Define your objectives with your employees

 

Make your onboarding process long enough to make a difference

 

Think about where your new hire should be headed after the onboarding process

 

What expectations should both the employer and employee have for one another

 
No matter what strategy you choose to implement, or how you choose to mix up each of the strategies, onboarding is a powerful tool for your business to utilize. Every step of each of these onboarding strategies is focused on growing your employee's potential and building their confidence in their new roles. Take these strategies and refine, tweak, and utilize them to grow your employees' and organization's goals. 
If you need help developing your own onboarding strategy, contact solveHR today to get expert HR help. Our HR experts offer services and guidance that will make your strategic HR easy, so you can focus on what matters—growing your business!
Subscribe to receive all our blogs
Written by: Matthew Muriel

Meet Matthew! Matthew is our content writer and has been working with us for a year. He enjoys working for SolveHR because it allows him to practice his copywriting and allows him to build experience in his fledgling career. Matthew studied at the University of Texas at San Antonio and earned his degree in English with a concentration in Professional Writing. He values learning new processes in the HR industry and then conveying those ideas to the company's clients. When he isn't working, he enjoys reading nonfiction, with his favorite book that he recently read being The Gene by Siddhartha Mukherjee. If he could go anywhere in the world he would travel across the United States and visit all of the national parks.