12/03/2020
Posted by:

Winter Green-Ike

Category:

Culture & Retention, Risk & Compliance, Small and Mid-Sized Business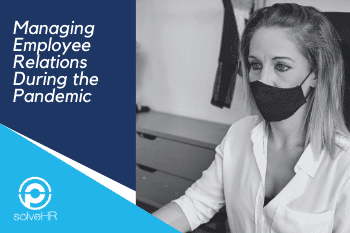 We're getting closer to the end of the year and things are looking more promising with the pandemic that has been rocking the United States since March. Although things still look grim with the total amount of cases in the US reaching 13.8 million and the number of deaths being in the 270k+ range, there is hope with the economy seeming to have recovered better than expected and several effective vaccines being announced from biotech companies Pfizer and Moderna.
While the good news is promising, we're still a ways away from a total vaccine rollout as the CDC announced that Phase 1 rollout will consist of health care professionals and Long-Term-Care residents. This means that as business leaders we must still work diligently to manage and mitigate the effects of this pandemic on the workplace.  
Tensions have risen in the workplace between management and employees as restrictions have altered how we interact with one another. While safety measures have been put in place to keep employees healthy, pandemic fatigue has begun to set in and cause tensions to arise between management and employees.  
This week we wanted to discuss how to best ease tensions between your employees during the pandemic. While this is a tumultuous time, we must remind ourselves that we can get through this pandemic together. 
Dealing with Pandemic Fatigue in the Workplace 
After months of the pandemic putting a hold on our society, many people are starting to experience fatigue from all of the regulations and restrictions. Pandemic fatigue has been described as intense emotional feelings caused by the effects of the pandemic such as:  
Fear

 

Anxiety

 

Loneliness

 

Hopelessness

 

Weariness
You may have noticed some of these symptoms in yourself or your employees and seen how it can negatively affect the workplace and wondered about what can be done to reduce workplace fatigue. Combating pandemic fatigue is the first step to improving workplace relations as it can ease some of the anxiety that your employees may be facing during this time.  
How to Build Stronger Employee-Manager Relations 
Dealing with pandemic fatigue in the workplace can ease any tensions that arise from the pandemic, but there are still more things that you can do to help build employee-manager relations during this time. 
Everyone copes with stress and life-changing events in different ways, so where one employee could be experiencing what is "categorized" as pandemic fatigue, another could be experiencing something else entirely.  
Below is a list of ways that we think can help you reach out to your employees and deal with any pandemic issues:  
Connect with Employee

– Try to maintain contact with your employees during this time. Ask them how their home life is doing or how they're handling their workload to get some insight into their lives. A little goes a long way when it comes to staying connected with your employees and can help you prevent tension in the workplace before it arises.




 

Support

– Your employees need support during the pandemic, and if the

re

 aren't getting any then you can expect tensions to rise in the workplace. Directing employees to counseling services if they need them, providing flexible work schedules (if your workplace allows it), and just generally being there for your employees are ways that you can support your staff.




 

Self-Care

– Your self-care is important 

too and

 can affect how you end up leading your team during the pandemic. Take a minute to pause and reflect on how you are handling the pandemic and if you need a moment to breath

e

. When tensions run high, it helps if you can enter the conversation with a cool head.




 

Conflict Resolution

– Conflict is bound to arise when tensions run high, but it can make a world of difference if you know how to diffuse the conflict when it does. Remember when it comes to dealing with conflict it

'

s best to address the issues with all parties involved, listen to both sides, find common ground, and encourage compromise.
The pandemic is far from over, but there is a light at the end of the tunnel that we're starting to see. To keep our businesses together we have to keep our heads up and stick together to get through this. Ensuring that your employees' relationship with management is strong during the pandemic can help make weathering the storm a little easier. 
SolveHR's?mission has always been to provide meaningful, yet simple HR solutions for our clients.?In light of?the spread of COVID-19, we will continue to make good on that mission, so you can continue to focus on your business and the communities you serve.
Subscribe to receive all our blogs
Written by: Matthew Muriel
Meet Matthew! Matthew is our content writer and has been working with us for a year. He enjoys working for SolveHR because it allows him to practice his copywriting and allows him to build experience in his fledgling career. Matthew studied at the University of Texas at San Antonio and earned his degree in English with a concentration in Professional Writing. He values learning new processes in the HR industry and then conveying those ideas to the company's clients. When he isn't working, he enjoys reading nonfiction, with his favorite book that he recently read being The Gene by Siddhartha Mukherjee. If he could go anywhere in the world he would travel across the United States and visit all of the national parks.