12/09/2020
Posted by:

Winter Green-Ike

Category:

Culture & Retention, Risk & Compliance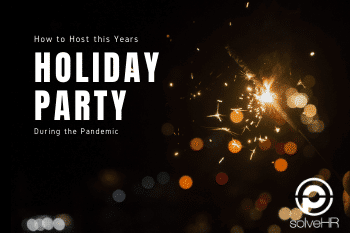 The office holiday Christmas party is a time-honored tradition in corporate America. A gathering of all our coworkers to celebrate the end of the year while enjoying cheesy holiday sweaters, a nice spread of food, and all the hard work we put in that year. 
Yet this year is different (as all things have been) with the pandemic. The need to socially distance to reduce the spread of COVID-19 makes it problematic to plan a holiday Christmas party, but the stress that the pandemic has put on employees this year makes the celebration even more important. 
It's never been more important to celebrate the accomplishments of your employees given the difficulties that they've had to endure this year. This is why we wanted to put together a list of ways that you can either host a pandemic approved holiday event or an alternative way to celebrate your employees this season. 
Socially Distanced Holiday Parties 
Thankfully, a year of having to endure the pandemic has given us no shortage of ideas on how you could go about hosting a holiday event this year. Cases are rising again in the country, so of course, virtual events are recommended, but that doesn't mean that small in person events can't be planned. Below are some ways we've thought of that you can hold an event while still being safe this year: 
Plan Smart

– 

The CDC has outlined a set of guidelines for gathering during the holidays

 which can be used as a helpful framework for planning a party. Holding the event outside greatly increases the 

number

 of people you can have at the event as it gives ample room for the 6-feet required social distance. Planning smart allows you to still hold an event while keeping everyone safe.

 

 

Go Virtual

– Holding the event virtually this year is always an option. While it may not sound too appealing to hold the party over another Zoom meeting, you can get creative with how it's held. Make things interactive by playing games; sending out goodies that you all can enjoy virtually like wine, gifts, or gourmet treats; or virtual holiday cooking class.

 

 

Plan a Hybrid Event

– Think about planning a hybrid event where you mix in-person and remote elements. You could have a small gathering of senior staff and management toast to staff as remote teams raise glasses of champagne from home.

 

 

Give Employees a Choice

– You could give your employees a choice on how to spend the holiday budget this year. Perhaps your employees would want to donate to a local charity or cause, invest in catered lunch delivered to their homes for the day, or have a virtual 

performance of some theater company. Directly asking your employees earns a lot of goodwill from them because it shows that you are receptive to their ideas.

 
Other Creative Ways to Celebrate the Holidays 
Of course, you, or your employees, might not want to hold a holiday party this year and that's ok because there are still other ways you can celebrate the end of the year. Here are some other suggestions that we came up with for rewarding your employees this holiday: 
High-End Holiday Gifts

– Companies like 

iPromo

 are starting to offer promotional products like branded $300 Apple 

AirPods

 or Yeti Tumblers. Bulk purchases of these products make great gifts that you can give to your team and can often be cheaper than a traditional office party as you don't have to budget for catering, venue, and entertainment.

Holiday Care Package

– Think one big gift might seem impersonal? Then perhaps putting together a custom care package for you

r

 employees is the way to go. There all sorts of services online that offer 

ready-made

 care packages from assorted candies to gourmet meats and che

e

ses.

Extra Days Off- 

take the holiday budget this year and give your employees additional paid days off throughout the holidays. Virtual celebrations can be fun, but the idea of another zoom call makes the option of not having a holiday party this year an attractive alternative.

 
No matter what you choose to do this holiday season to celebrate your employees, remember to be creative and safe. There are many more creative options that can be done for this year's holiday party that we didn't even cover in this article, but thankfully articles like this one from The New York Times can give you a few more creative ideas this season. Good luck and stay safe this year.  
SolveHR'smission has always been to provide meaningful, yet simple HR solutions for our clients.In light ofthe spread of COVID-19, we will continue to make good on that mission, so you can continue to focus on your business and the communities you serve.
Subscribe to receive all our blogs
Written by: Matthew Muriel
Meet Matthew! Matthew is our content writer and has been working with us for a year. He enjoys working for SolveHR because it allows him to practice his copywriting and allows him to build experience in his fledgling career. Matthew studied at the University of Texas at San Antonio and earned his degree in English with a concentration in Professional Writing. He values learning new processes in the HR industry and then conveying those ideas to the company's clients. When he isn't working, he enjoys reading nonfiction, with his favorite book that he recently read being The Gene by Siddhartha Mukherjee. If he could go anywhere in the world he would travel across the United States and visit all of the national parks.