10/13/2020
Posted by:

Winter Green-Ike

Category:

Culture & Retention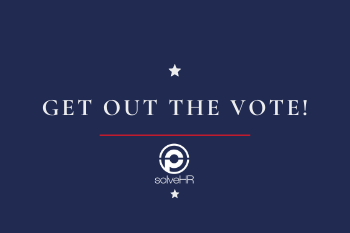 We are just a few weeks away from the election and early voting has already begun in many states across the nation. At the time of writing this, 4 million Americans have already cast their ballots, more than 50 times the 75,000 that was cast this time in 2016. 
The voter turnout for this election is already looking to be unprecedented, and this is weeks before November 3rd. As Election Day does approach a growing number of businesses are actively encouraging their employees to go out and vote. Big–name companies like Target, Walmart, Twitter, and Best Buy are giving their employees information, reminders, and paid time off to help them vote this year. 
Helping your employees get out to vote is an excellent way to boost your company's employee and customer relations by meeting consumer expectations for engagement in social and political issues. This week we wanted to put together different ways that you can help your employees stay informed and engaged when it comes to voting this election. 
Why You Should Care 
So why should your business care if your employees vote or not? Well as we alluded to earlier in the article, helping your employees vote betters your employee and customer relations according to a case study of employer voter mobilization campaigns in 2018 by the Ash Center for Democratic Governance and Innovation at Harvard Kennedy School. 
The case study discusses how companies' use of civic responsibility is not only good for democracy, but also business as it raises brand awareness with new audiences, increases employee satisfaction, and elevates brand reputation with elected officials. 
While financial gain should not be the primary target for programs that increase employee voter turnout, it is a nice incentive for companies to participate in such programs. 
Not only do employee voter programs provide a good financial incentive, but they also provide a great way to engage with younger employees and customers as they find this issue especially important. A poll conducted by the Center for Information & Research on Civic Learning and Engagement this year showed that 83% of young people believe they have the power to change the country, 60% feel like they're part of a movement that will express its views, and 79% say that the pandemic showed them that politics does impact their everyday lives.  
No matter why your business should enact voter-friendly policies at work, it's just the right thing to do for your employees. 
10 Ways to Help your Employees Vote 
We did our research and based these suggestions on what other businesses are doing and from the experts at electionday.org, which we would recommend that you go visit their site to learn more. In this matter participation over politics is what matters. So, no matter what your political affiliation is, what is important is that you get your employees out to participate in the political process.  
Here are 10 ways that businesses across the country are increasing voter participation among their employees: 
Distributing company-wide voter information

Providing paid time off to vote on and/or before election day

Sending reminders for employees to vote

Allowing employees to use company printers for absentee ballots, as well as offering to pay for postage

 

Hosting a voter registration drive and aiming for 100% voter registration in your company

 

Encouraging employees to offer childcare, elder care, or rides to the polls for other members in their communities

Don't

plan any meetings on election day

Reducing store hours on election day 

like Best Buy

or,

Closing entirely on Election Day like 

Patagonia in 2016

 

Encourage employees to train as poll workers this election

 like 

Levi 

Strauss

 has committed to
Going Beyond Compliance 
Enacting meaningful policies that go beyond what is required of your company will show your employees that you care. Most of the policies that we outlined above don't require a large budget but do require a large amount of care to see that each of them is carried out properly. 
When learning about more information on how to get your employees to vote, check out vote.org to see when your state's early voting is, where your polling site is for your employees, and to see if your employees are registered to vote. Good luck and get out the vote! 
Are you struggling with managing your human resource needs? SolveHR offers several transactional and strategic HR services to help your business. Contact us today to find the right solution for you, so you can focus on what matters—growing your business!?