03/02/2022
Posted by:

Matt Muriel

Category:

Culture & Retention, Small and Mid-Sized Business, Training & Development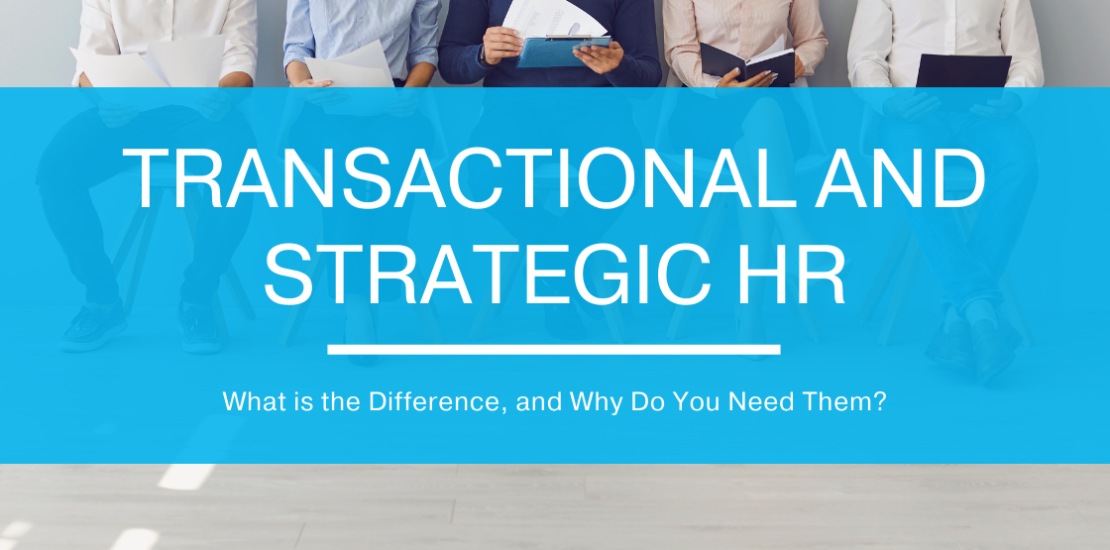 Having a valid human resource strategy within your organization can focus your company's efforts and allow it to reach its full potential. By focusing your HR strategy, we mean shifting resources from just Transactional HR to more Strategic HR. At first, that may seem like a difficult task, but for the focus of this article we're going to look at traditional Transactional HR, Strategical HR, and some other tactics to get the best of both worlds.
Transactional HR
Transactional HR is what everyone usually thinks of when you say, "human resources," that is payroll, workers compensation, benefits management, etc. Transactional HR also serves to oversee compliance with employment and encompasses everything that makes hiring, training, paying, and managing your employees.
If your HR department only focuses on transactional processes like benefits management and payroll, then you're missing out on a slew of strategic HR benefits like:
Increased worker productivity
Higher employee engagement
Increased profits
Higher employee retention
Strategic HR
So, what is Strategic HR? Strategic HR differs from Transactional HR in that it focuses more on tasks that are value- and future-focused. This includes, but is not limited to:
Culture and retention strategies
Recruitment and selection programs
Developing onboarding programs
Increasing value out of employees through training programs
Developing Outreach programs for recruitment sources.
Developing Best Practice guides or assistance
Strategic HR helps implement strategies that help focus on an organization's goals. For example, when hiring new employees for a position, you could make the mistake of hiring too quickly and end up with an unqualified person for the job. Implementing a strategic HR strategy of marketing to exactly the right people qualified for the job, or even changes in the hiring process, can make a huge difference in resources, time, and energy spent.
It's important to recognize the difference between a transactional and strategic HR approach. To visualize the difference, think of it like this, say your company wants to scale up operations and needs to fill some positions. A transactional approach to the problem would be to write 10 job descriptions, post them, interview potential candidates, and then fill the positions. A strategic approach would be to think about what challenges need to be met by the positions, creating a long-term plan to keep those positions filled, and networking to find the right candidates to fill those positions. Each strategy is valid, but you get different results depending on what your company is looking for.
The Best of Both Worlds
Knowing when to choose when to implement strategic HR in conjunction with transactional HR can be a tough decision, but we're here to give some advice on when to decide to move forward on an HR plan that works for your business.
First, Transactional HR always comes before Strategic. This is because it is imperative that you establish a means to pay, train, and manage your employees, failing to do so on any of these can create distrust in your organization and lead to more headaches down the road.
A good rule of thumb on when to implement large company strategic HR programs is when your business reaches 50 employees. The reason being is that 50 employees puts you in the threshold of being a medium-sized business, when companies must comply with federal regulations like the Affordable Care Act or the Family and Medical Leave Act, meaning an adjustment of HR resources is needed to accommodate for the new liability.
Of course, just because you have less than 50 employees on your payroll doesn't mean you still can't implement Strategic HR strategies. Once your business has a handle on all of the Transactional HR elements, you can then begin to focus on developing your employees, improving their productivity, and even increasing their satisfaction with their jobs!
It's important to note that you should choose Strategic HR projects that align with your company's goals. For example, if you have a company with a high turnover rate, consider implementing an employee onboarding process or focusing on employee satisfaction to increase retention and engagement.
By utilizing both Transactional and Strategic HR you can take your business to new heights, allowing your company to reach its goals effortlessly.
Need help building a comprehensive human resource strategy? We offer expert advice in both Transactional and Strategic HR strategies to increase the productivity of your employees. Take the headache out of HR so you can focus on what matters—growing your business!