11/25/2020
Posted by:

Winter Green-Ike

Category:

Culture & Retention, Small and Mid-Sized Business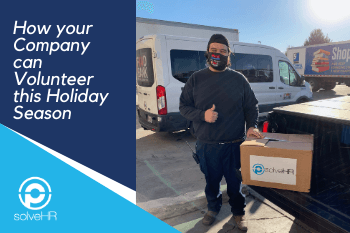 The holidays are finally upon us, and that would normally mean that it's time for turkey, giving, and visiting loved ones, but this year is a little different though. The pandemic has made traveling and in-person gatherings near impossible this holiday season, and what is worse is that this pandemic will most likely affect holiday volunteering this season as well. 
A 2018 report by the Corporation for National and Community (CNCS) found that 77.34 million adults (30.3%) volunteered that year, with American clocking in nearly 6.9 billion volunteer hours at an estimated $167 billion in economic value. Nonprofits also receive the majority of their annual giving in the last 3 months of the year, with December accounting for 30% of all donations made in the year. 
Just because we are in a pandemic doesn't mean that volunteering and giving need to be put on hold. Now is the time when these organizations need the most help and donations, and we're here to give some creative solutions that can get you, your business and employees engaged this holiday season, despite the pandemic. 
Ways your company can volunteer this holiday season 
It's a natural response to want to get out and help people especially in times of crisis, this is why we've put together a list of ways that you can get your company involved this holiday season. Looking to expand your community outreach, then try some of these service opportunities: 
Donating: 
Plan a Blood Drive

– If your business is in a popular high traffic spot, sponsoring a blood drive this holiday season is a great way to help the community. 

U.S. Blood supply shortages are hitting the country as the pandemic hits a peak

, so think about 

contacting the American Red Cross to figure out how to hold a blood drive

in your area.

 

Donating Personal Protective Equipment (PPE)

– 7 months into this crisis and 

the country is still having a difficult time meeting its PPE need

s. 

Getusppe.org

is a nonprofit that was formed to help make donations of unused protective equipment to hospitals and medical centers that need them. Consider making a sponsored donation of PPE equipment (if you have it) or a monetary donation

Host a Holiday Food Drive

– Hosting a holiday food drive at the office is a perfect way to help families in need this season. Contact your local food bank to learn about items they may need, and then coordinate a drive among your employees. You could also hold a virtual food drive instead that collects monetary donations to give to a food pantry.

Supporting Local Businesses

– this is donating directly per s

e

, but you can help support local businesses by buying gift cards. 

NPR reported on this practice back in March

, and it's a good way to help your community's local businesses. You could use the gift cards in some employee company raffles or maybe just give them away as a holiday bonus.

 
Volunteering:
 
Volunteer match

– is an excellent 

website

that is like the Indeed or LinkedIn of volunteer work. They have multiple listings of volunteer work that is in person or remotely from different communities across the country and is an excellent way to know what's going on in your area

Food Banks

– Not only do food banks need food donations this holiday season, but they also need boots on the ground to make sure that families in need stay fed during the winter. 

Find a food bank near you that needs volunteers

and consider organizing a company outing to go and help out

Habitat for Humanity

– Even during the pandemic Habitat for Humanity still needs volunteers to help build houses. If you're located in warmer climates, 

consider volunteering with Habitat for Humanity

to help build homes for the needy in your community.

Informal Volunteering

– This holiday season you consider partaking in some informal volunteering, volunteer work that isn't coordinated by an organization or institution. This can just be supporting family members, doing small favors for neighbors, or even helping out around your community. Informal volunteering is just generally being a good person and performing random acts of kindness.

 
No matter what you choose to do this holiday season remember to stay safe and healthy. There are people out there that need assistance during the holidays and the pandemic magnifies their need for help. Put your company, or your employees, in a position where they can make a difference for the better. 
SolveHR's mission has always been to provide meaningful, yet simple HR solutions for our clients. In light of the spread of COVID-19, we will continue to make good on that mission, so you can continue to focus on your business and the communities you serve.
Subscribe to receive all our blogs
Written by: Matthew Muriel
Meet Matthew! Matthew is our content writer and has been working with us for a year. He enjoys working for SolveHR because it allows him to practice his copywriting and allows him to build experience in his fledgling career. Matthew studied at the University of Texas at San Antonio and earned his degree in English with a concentration in Professional Writing. He values learning new processes in the HR industry and then conveying those ideas to the company's clients. When he isn't working, he enjoys reading nonfiction, with his favorite book that he recently read being The Gene by Siddhartha Mukherjee. If he could go anywhere in the world he would travel across the United States and visit all of the national parks.