08/03/2022
Posted by:

Matt Muriel

Category:

Culture & Retention, Payroll & Taxes, Recruitment & Selection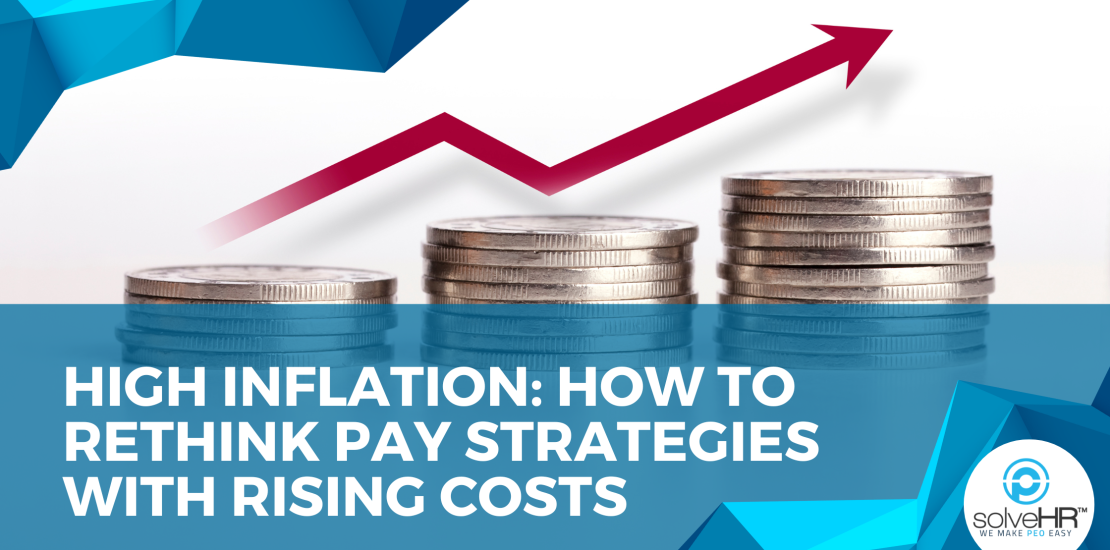 HR Professionals across the country are beginning to worry about the effects of inflation on their organizations. Rising inflation means rising costs all across the board, including increased pressure on increasing wages and salaries for employees. To hold on to workers, many employers are starting to rethink their pay strategies going forward and increasing their salary budgets for the coming year.
In May, the year-over-year increase in consumer prices hit a record 40-year high of 8.6 percent, according to the U.S. Bureau of Labor Statistics. Many economists are expecting that prices will remain elevated through 2022 and not begin to level out until 2023.
An inflation rate that is four times higher than the last decade is causing trouble for workers' budgets, as pay increases are failing to keep pace with rising prices. Real (inflation-adjusted) average hourly earnings fell 3 percent from May 2021 to May 2022—even as wages and salaries were rising—the BLS reported on June 10. Real (inflation-adjusted) average hourly earnings fell 3 percent from May 2021 to May 2022—even as wages and salaries were rising—the BLS reported on June 10.
So, what is a business to do in times like this? How are employers supposed to help their workers out, but still manage their finances as well? We're hoping to answer these questions and help out any businesses that are finding it difficult to navigate the rising costs of their industries.
Pay Expectations are Rising
Pay Expectations across industries are rising as employees' are beginning to demand higher wages and salary increases as inflation rises. A survey conducted by Grant Thronton LLP found that among the 5000 employees they interviewed:
40 percent expect pay raises greater than 6 percent this year.
31 percent expect increases of more than 8 percent.
21 percent anticipate receiving pay bumps of more than 10 percent.
The firm also cited that the top reason employees took new jobs in early 2022 was because of higher base pay, improved work-life balance, greater opportunities for advancement, better benefits, and increased autonomy.
Regarding pay, 40 percent of workers said they left their job for a company that offered them a raise of at least 10 percent. Within that group, 13 percent said they received a salary increase of 20 percent or more.
What Should Employers Do?
Below we've outlined a few tips that we think would be helpful for any employers struggling to handle the increased pay expectations that are happening due to high inflation. Keep in mind that whatever solution is picked, it should be unique to the business and its employees:
Focus compensation efforts on supply and demand for talent- Employers need to ensure that not just new hires are being paid the going market rates. Long-term employees also need to be paid based on the labor market and care is needed to ensure that their pay is not lagging behind their new peers.
Give special consideration to workers most affected by inflation- Low-wage workers are hit especially hard by the effects of inflation, especially with the rising costs of groceries and gas prices. Taking a "living wage" approach to setting minimum wages internally, evaluating if starting wages need pay bumps and looking at offering other pay supplements like lump-sum awards, stipends, or commuting assistance are good options to take as well.
Increase transparency to reassure workers' pay is competitive- By showing the thought process behind how pay is determined, employers can remove the mystery that many employees think goes into how compensation is set.
Consider the employee experience- employers can do a good job in limiting the effects of inflation on their employees by understanding what their working experience is like. Often it isn't even compensation that is the issue for employees to begin looking for new work elsewhere, but working conditions instead.
Need help handling the rising costs of inflation? Businesses that partnered with a PEO found an increased annual growth rate of 7.6 percent more than their peers who ran HR services in-house. Save a bit of time, money, and resources by partnering with solveHR, so you can focus on what is important—growing your business!