09/08/2020
Posted by:

Winter Green-Ike

Category:

Culture & Retention, Payroll & Taxes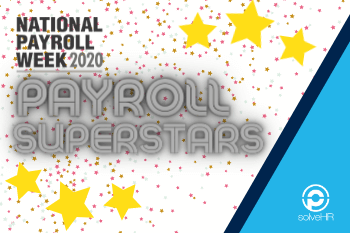 It's National Payroll Week! National Payroll Week (NPW) every year coincides with the week of Labor Day, and since last year we talked about what makes Labor Day a great American holiday, this year we wanted to talk about NPW and how it stands to represent the significance of "an honest day's work for an honest day's pay."
What is NPW?
NPW was founded in 1996 by the American Payroll Association (APA) and celebrates the partnership between America's employees, the payroll professionals who pay them, and the critical government programs and agencies that our payroll systems funds.
This week is all about celebrating the economic, cultural, and social achievements that American employees have made over the years and to spread awareness of the payroll withholding system. The APA, its local chapter, and businesses across the country also use the week to host community service projects and to educate others on how paychecks are calculated and how to get the most of their pay.
The official slogan for NPW is "America Works Because We're Working for America. ®" This is because the money that payroll professionals collect from employees' paychecks through the payroll withholding system is vital for funding federal programs that keep the country running. Programs like Medicare, social security, the building of federal highways, the U.S. military, and more all get funded through the payroll withholding system!
How to Get Involved
You can celebrate National Payroll Week in a variety of ways, whether it be in your business, organization, or community. Try some of these tips that we put together to make it feel like a celebration and be sure to spread awareness of how the payroll system benefits America:
Celebrate by Playing Games– playing games in an office setting may seem silly, but nothing lifts the mood more than having some trivia based on NPW. Playing some games can break up the monotony of the week and make it feel like a real celebration. Try putting together a game of Jeopardy, Trivia, Bingo, or any other fun group game you can think of!
Hold a Giveaway– It doesn't have to be anything extravagant to giveaway, but everyone loves the chance of getting prizes. Think of giving away some small prizes like gift cards or useful items but be sure to take the opportunity before the giveaway to tie it back to NPW.
Hold a Breakfast/Lunch/Dessert- Holding a lunch (or whatever meal you hold it at) and learn is a great way to get employees to learn about new topics like NPW. It's a win, win, your employees get a free meal and all they have to do is learn about National Payroll Week and how it impacts them.
Spread Awareness– Print out educational materials and spread the word! It can become a fun Labor Day tradition to celebrate NPW and helps to extend a day off into the workweek. The NPW website has some great educational materials to help you plan out your week and help spread awareness.
Staying Engaged Throughout the Year
You can stay engaged throughout the year by finding your local APA chapter and playing an active role in it. Staying involved with your local chapter can give you access to a range of useful payroll resources, professional networking, and educational growth opportunities for your business and community.
You can also attend payroll events that provide educational and networking opportunities for you and your employees. Following the NPW hashtag on social media is also a great way to be a part of the national conversation not just during the holiday, but year-round!
Are you struggling with managing your human resource needs? SolveHR offers several transactional and strategic HR services to help your business. Contact us today to find the right solution for you, so you can focus on what matters—growing your business!
Subscribe to receive all our blogs
Written by: Matthew Muriel
Meet Matthew! Matthew is our content writer and has been working with us for a year. He enjoys working for SolveHR because it allows him to practice his copywriting and allows him to build experience in his fledgling career. Matthew studied at the University of Texas at San Antonio and earned his degree in English with a concentration in Professional Writing. He values learning new processes in the HR industry and then conveying those ideas to the company's clients. When he isn't working, he enjoys reading nonfiction, with his favorite book that he recently read being The Gene by Siddhartha Mukherjee. If he could go anywhere in the world he would travel across the United States and visit all of the national parks.