12/24/2021
Posted by:

Leonard Trinidad

Category:

Uncategorized
HR Solutions: Explained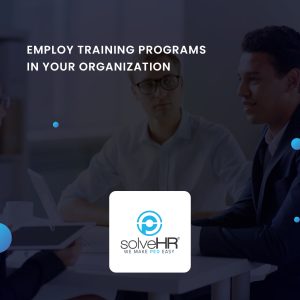 When it comes to handling the needs of your employees, from recruiting them, providing compensation and benefits, to evaluating their productivity, and more; your business requires a seamless way of processing your day-to-day business needs, managing your personnel, and storing and processing employee data.    
In this tech-savvy world, these tasks can now be performed using various software to manage your personnel to ensure your workplace runs effectively and efficiently.
Solve HR offers your business simple HR solutions using cloud-based HR tools that will integrate data storage with HR software that meets the needs of your employees under a universal database.
Some of these HR software features that we offer at Solve HR include—
Recruitment software:
 

This allows your organization to run and manage job listings on various career websites, and handle the hundreds of applications that come in by coordinating the hiring process among various departments.

 

It allows you to assess your candidate's skills and qualities, see how it fits your job description to ensure long-term retention of their services.  

 

With this feature, you can ensure the hiring process strictly follows a non-discriminatory policy
Onboarding software:
 

Onboarding software allows new employees to connect with their colleagues

 

It helps them build strong professional relationships that will reduce the risk of early terminations

 

It will simplify the process of completing onboarding forms and signing tax forms electronically
Training and Development:
 

This allows your employees to stay up-to-date with software changes and evolutions related to their job

 

Solve HR provides you with tools that can help your company develop your own study materials to train your employees

 

Upon completion of these training programs, you can reward your employees with certification that they can share on digital platforms, and provide them with new additional skills that will improve their productivity.
Compensation:
 

You can track basic pay, incentives, and bonuses of each employee in one place

 

Structure your guidelines for incentives and bonuses based on merit by calculating their performance and compensation ratio

 

Make it accessible to get insights into their individual contributions and performance
Benefits Administration:
 

This includes processing your employee's health insurance, paid leave, and retirement fund in addition to their salary

 

It provides tools for your employees to choose a benefits program that will best suit their individual needs and family needs

 

It supports your company with advanced tools to avoid expensive methods of calculating and analyzing employee data to provide fair benefits
Payroll and Tax:
 

You can now consolidate and access all your payroll data

 

This software feature will help you process the payment made to all your employees

 

It will also help you calculate and allocate legally required tax your company must comply in accordance with state and federal laws

 

It will help your company manage any direct deposits, checks you've issued, and help your employees calculate their take-home salary after tax.
Time and Scheduling
 

Track your employee's attendance record and manage their paid time-off, vacation days, and sick leave

 

Make it easy for them to request leave, swap shifts, track overtime

 

This also provides you with tools that allow you to track billable hours and manage employee expense account   

 

Adjust and schedule tasks to employees that align with their availability and labor demand
Workforce Management:
 

Manage your workforce by tracking time spent on specific tasks

 

Track their performance and provide robust analytics reports with data visualization

 

Automate schedules and time and attendance, easily trade shifts without delays

 

Process requests for paid time off, other legally required leave policies quickly

 

Schedule work assignments to ensure the demands align with labor availability to prevent employee burnout   
Employee Database:
 

Store, access, and analyze employee data in under one database

 

You can also scan documents of your employees, upload them from other locations and ensure they are available and accessible in one location under the right folders

 

You can customize viewing permissions of personnel file; who can access an employee's file, what type of documents can be accessed

 

This feature allows you to automate the management of manual document processing, to enhance productivity and ensure security
Performance reviews
 

With this feature, you can gain insights into your employee's goals

 

Track your employee's progress, using key metrics to analyze their performance

 

Evaluate their performance, and discover their strengths and weakness and provide guidance to help them focus on the areas that require improvement
Why choose Solve HR?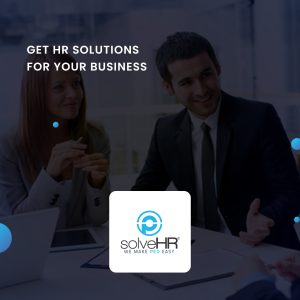 Solve HR offers you a wide range of cloud-based HR tools and software solutions that enables you to meet state regulations and improve productivity by streamlining your operations. We can help you reach a broader understanding of your employee's needs and support your HR team in meeting those needs. With us, you can provide a better work-life balance for your workers.